Link to the virtual information meeting
from June 20 at 7 p.m.:
Click here
L'Air en Fête team is proud to join once again with Hudson to offer you a day camp this summer.
Creating smiles in a safe environment: this is our mission since 2000.
Activities planned for your child
Sports, recreational and team games
And many other surprises!
What your child needs to bring every day
Cap or hat

Sneakers

Cold meal (no microwave oven) and two snacks

Sunscreen

Bottle of water

Bathing suit

Towel

Raincoat
To avoid:
Food containing peanuts or nuts
Money or valuable personal items (portable game console, watch, jewelry etc.)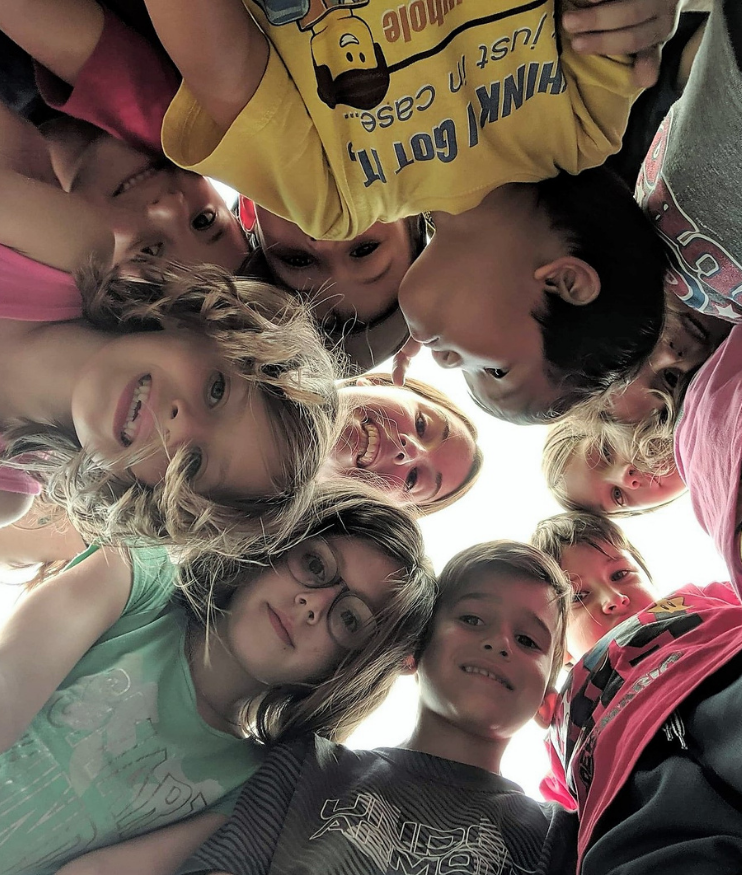 Our day camp is for children from 5* to 12 years old.
* The child must have reached the age of 5 on September 30, 2022 or before to be able to participate in the day camp.
Mandatory ratios
1 animator for every 10 children aged 5 to 8
1 animator for every 15 children aged 9 to 12
Location of the day camp
Community center
394 Main Street, Hudson
**IMPORTANT**
As of March 17, 2023, the school service center notifies the municipality that due to work at the school in the summer of 2023, the day camp will take place at the Community Center.
Camp items
A free shirt is offered with registration!
Important dates to remember
| | |
| --- | --- |
| Online registration begins: | March 29, 2023, at 9:00 a.m. |
| Day camp starts: | June 26, 2023 |
| End of day camp: | August 18, 2023 |
| Virtual information night: | June 20, 2023, starting at 7 p.m. |
The coordinator will email you the required link a few days before the conference to participate in the virtual information session.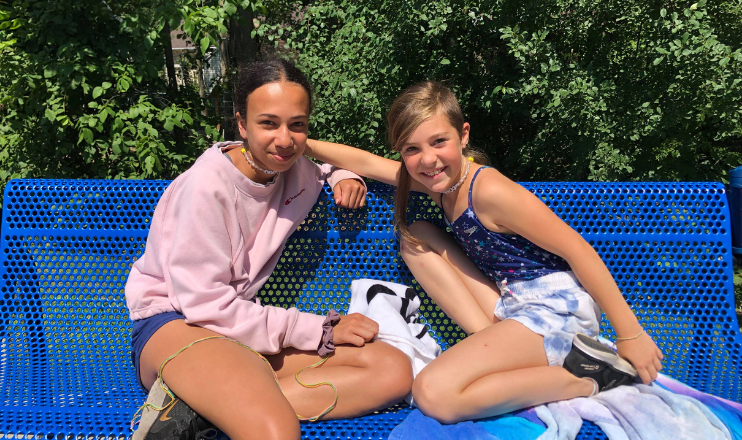 The program is offered weekly on the following dates: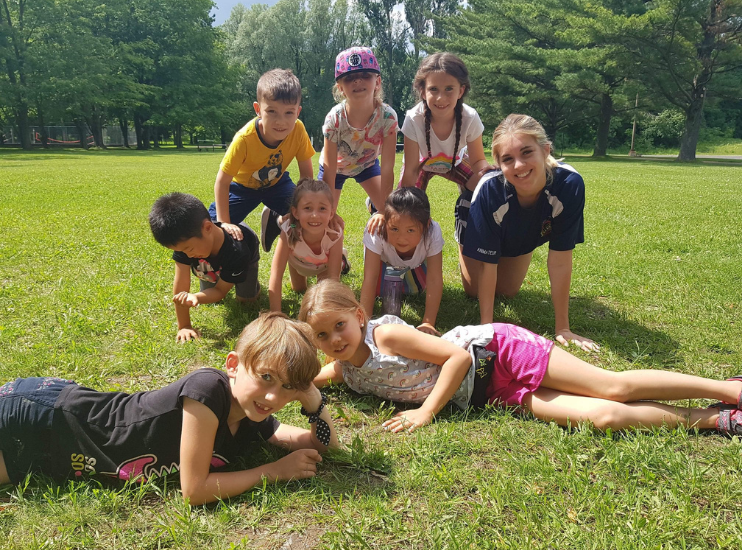 7:00 a.m. - 9:00 a.m.
Daycare
9:00 am - 10:15 am
Activities
10:15 - 10:30 a.m.
Snack time
10 h 30 – 12 h
Activities
10:30 am - 12:00 pm
Lunch
1:00 - 2:15 pm
Activities
2:15 - 2:30 pm
Snack time
2:30 - 4:00 pm
Activities
Please note that this is a typical schedule. It is subject to change without notice.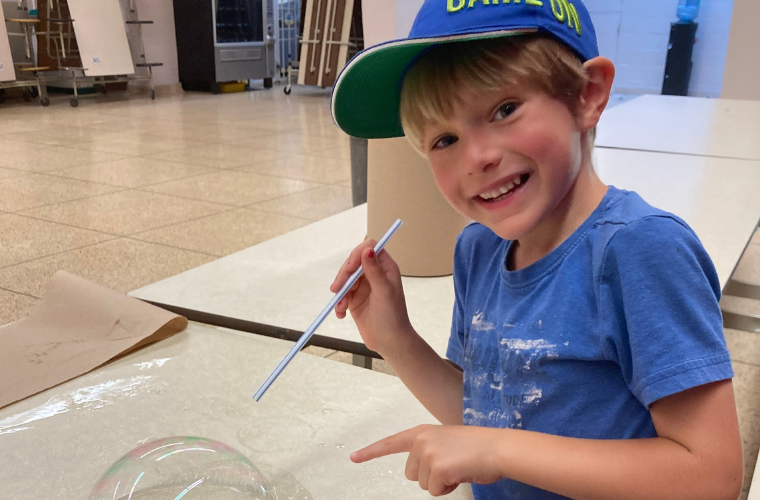 Childcare is NOT included in the price of the camp.
Childcare is offered every week from 7:00 am to 9:00 am and from 4:00 pm to 6:00 pm.
Children will be offered free activities supervised by our animation team.
As we will be checking in each day, please notify the coordinator when your child will be absent from camp or leaving early.
You will receive contact information in the weekly email that will be sent out the Thursday before each week of camp.
Water and thematic activities
Water games or swimming pool
On hot days, our animation team will organize water games for the children to cool off.
Weekly themes
Each week, the children will have a different theme. You will be able to follow its progress every day.
On Friday afternoon, a party - with special activities! - will mark the end of the theme.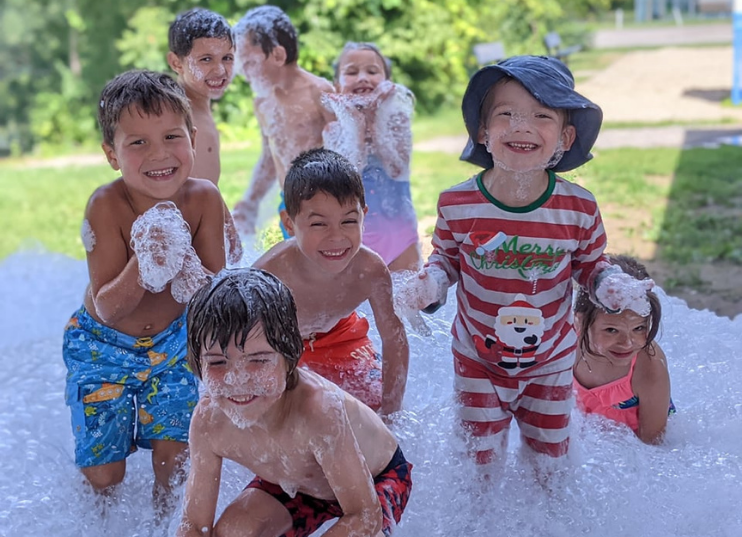 For an inclusive day camp
The Companion Program is designed to integrate children with special needs into the day camp to provide them with a fun experience in a safe environment.
This program is for all children who want to spend an extraordinary summer with outstanding chaperones. Big smiles and great memories guaranteed!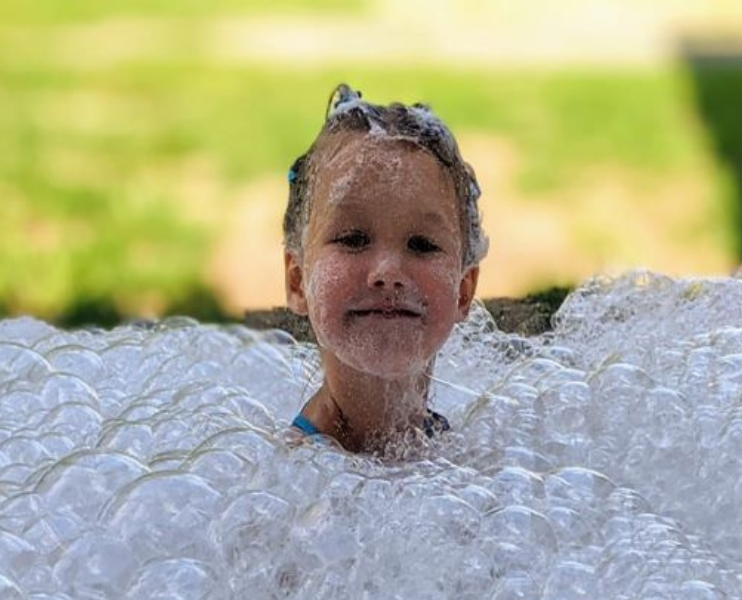 Here are the steps to follow to register!
Register your child for the regular day camp to reserve a spot.
We will contact you to confirm your child's participation in the day camp (conditional approval to the accompanying program).
If we are unable to find qualified staff to care for your child, we will inform you of the situation as soon as possible.
What your child has to bring every day
Cold meal (no microwave) and two snacks
Avoid: Foods containing peanuts or nuts:
Avoid: Money or valuable personal items (portable game system, watch, jewelry, etc.)
A free shirt is offered at registration!
1 animator for every 10 children aged 5 to 8
1 animator for every 15 children aged 9 to 12
An email will be sent to you every Thursday before a week of camp. This will give you all the information you need.
Procedure to follow in case of absence, delay or early departure
To report the absence of your child, his late arrival at camp or the fact that you will have to pick up your child earlier, please communicate the information directly to the coordinator of the day camp site either in person or by email: [email protected]
Camps de jour et allégements fiscaux =
un duo gagnant!
Tous les frais de garde payés durant l'été sont admissibles à d'importants allégements fiscaux.
 Vous êtes sceptique?
Utilisez le calculateur automatique ci-dessous.
Vous serez confondu!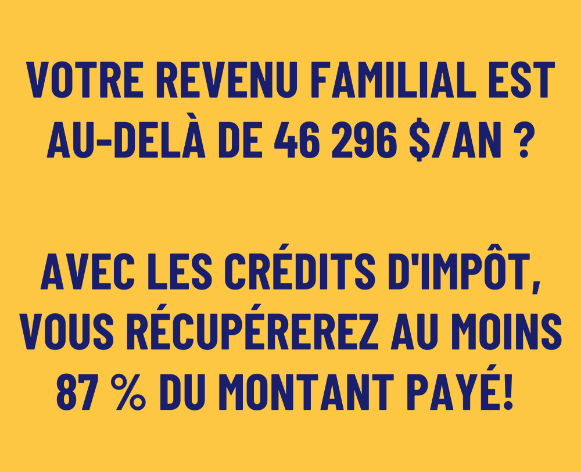 NON-RESIDENTS
Before june 5
Optional outdings
(extra fees)

all the optional outdings has been canceled
dans l'été pour chaque enfant
Le tarif peut varier selon votre situation familiale. Vérifiez le montant auprès de votre comptable.
*Les crédits ci-dessous sont basés sur les tables d'impôt de 2022.
Avant les crédits d'impôt
Total des crédits d'impôt
Coût réel d'une semaine de camp
Important notes regarding fees
Prices for Residents are as follows:
$120 per week before June 5
$135 per week after June 5
Packages 8 weeks before June 5: $830
Packages 8 weeks after June 5: $980
Prices for Non-Residents are as follows:
$189 per week before June 5
$219 per week after June 5
Not eligible for the 8-week package
Don't have a Qidigo account yet?
Create your Family profile now.
Online registration only via the Qidigo registration platform.
Payment by credit card only.
Click on the REGISTER/LOGIN button below.
Click on one of the activities in the Activities section.
Choose a session and click on the corresponding button.
In the New account box, click on Register.
Create your account and add members (child(ren) and parent(s) in the profile/family section in the tabs on the left.
You will be ready for registration to begin.
For information or help with registration: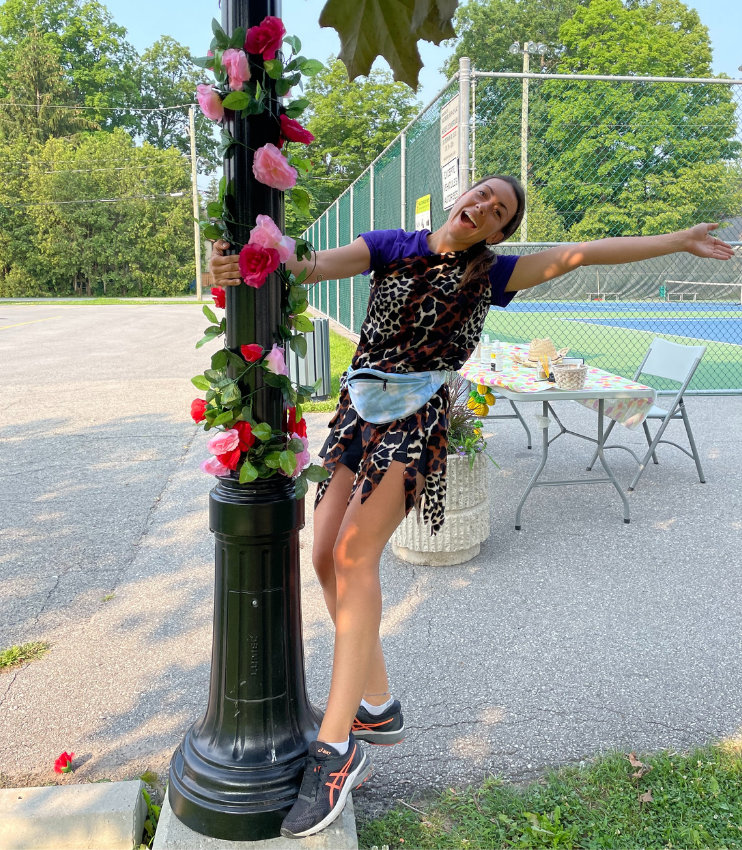 Optionals outdings (extra fees)
offered weeks #2 | #4 | #7
JULY 5 - Exporail
Exporail, the Canadian Railway Museum welcomes groups all year round and offers a privileged opportunity children to discover history through its rich collection of railway vehicles, size nature. Experienced, competent and dynamic guides-animators supervise the children. Book your visit to the largest railway museum in Canada and offer them a unique opportunity to experience a unforgettable experience.
Please note that the activities could be modified without prior notice.
JULY 19 - Centre des sciences & imax
Astonishing, fun, surprising, the exhibitions allow you to explore, learn and understand through a variety of interactive devices. Science exhibitions are designed to make accessible the sciences and technologies that shape our daily lives; allow direct and playful contact with scientific notions and basic techniques; understand the impact of scientific and technical applications in our individual and collective life.
IMAX®TELUS
A breathtaking cinematic rendezvous! The IMAX® TELUS theater offers images of incredible precision, a sound unequaled by its clarity and surround sound, the best IMAX® films available on the market, in addition to 3D technology at its best!
Please note that the activities could be modified without prior notice.
AUGUST 9- Arbraska - Rigaud
This physical activity in the forest is made up of aerial courses allowing children (from 5 years old) to develop their concentration, encourage their friends and have fun. All courses are decorated with suspension bridges, zip lines, ropes, ladders and Tarzan ropes that allow participants to progress to the treetops.
The groups will therefore be assigned routes adapted to the age and size of the participants. Specially trained guides will be present on the various routes to help and ensure everyone's safety.
Please note that the activities could be modified without prior notice.
Pour un été encore plus amusant!
Les spécialités sont des activités facultatives. Elles sont offertes tous les jours, de 9 h à midi, sauf le mercredi. .
Pour que votre enfant y participe, vous devez prévoir des frais supplémentaires de 36 $ par semaine.
Faites vite : les places sont limitées, par semaine, à 12 enfants pour les 5-10 ans et à 15 jeunes pour les 11-14 ans.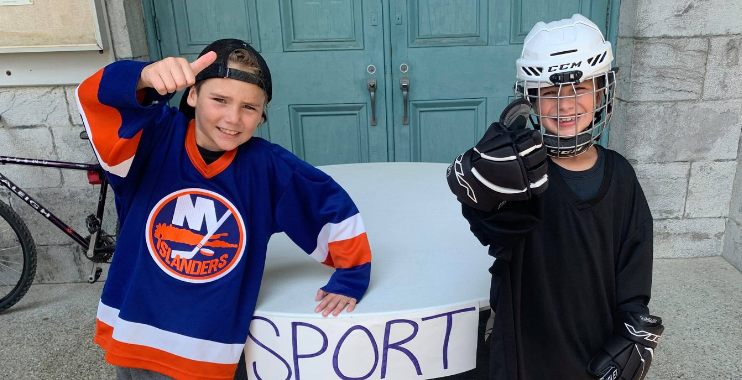 Semaine du 26 juin au 30 juin
Confection d'avions 9-12 ans
Au cours de la semaine, les jeunes fabriquent 8 modèles d'avion différents qu'ils rapporteront à la maison.
On débute par des modèles d'avions en papier qui demandent des techniques de pliage spéciaux et précis, permettant de comprendre les principes aéronautiques qui font qu'un avion puisse voler.
Ensuite, leur temps est consacré à un planeur de surf aérien qui vole aussi longtemps qu'on lui fournit une vague d'air. Ils fabriqueront un avion-Balsa en faune à lancement manuel ainsi qu'un planeur à hélices en bois.
Finalement tous effectueront un ornithoptère en bois (machine volante) qui peut voler 45 secondes. Des compétitions de groupes sont aussi prévues au programme, plaisir garanti!